So, here I am, packing my stuff up, and I realize that I have several hundred MRE Entrees. These things are jam-packed with calories, and the new MRE's that came out a couple years ago actually taste pretty good hot or cold. I've got beef roast, penne pasta, chicken pesto, whatever you like. I've got just the main meals, they're all stamped with the name of the dish, so if you want a particular one, just let me know and I can go through and pick them out.
They're perfect for:
Airsoft OPS!
Camping trips!
When you're too lazy to cook something!
Hiking!
The Zombie Apocalypse! And Z-Poc, the sequal!
The Communist Invasion!
And much more!
Anyway, here's the pricing:
1-5: $3 each
6-10: $2.75 each
10+: $2.50 each
These don't include any side items or heaters or anything else. Just the grey packet of deliciousness known as the MRE Entree.
We can meet up, but I'm not going to want to drive very far just for this unless you're buying like fifty of them just because I wouldn't end up making any money due to gas. But I travel around the Atlanta area (mostly on the north side) a good bit anyway, so we could probably work something out. If we can't, I'd be happy to ship. Buyer pays shipping (should only be like $5 for like 5-10 of these) and I take paypal. Oh, I'm also interested in trades, just throw out whatever you've got..
Here's a pic of some of them, I didn't feel like laying out all ~200 or so for a picture haha.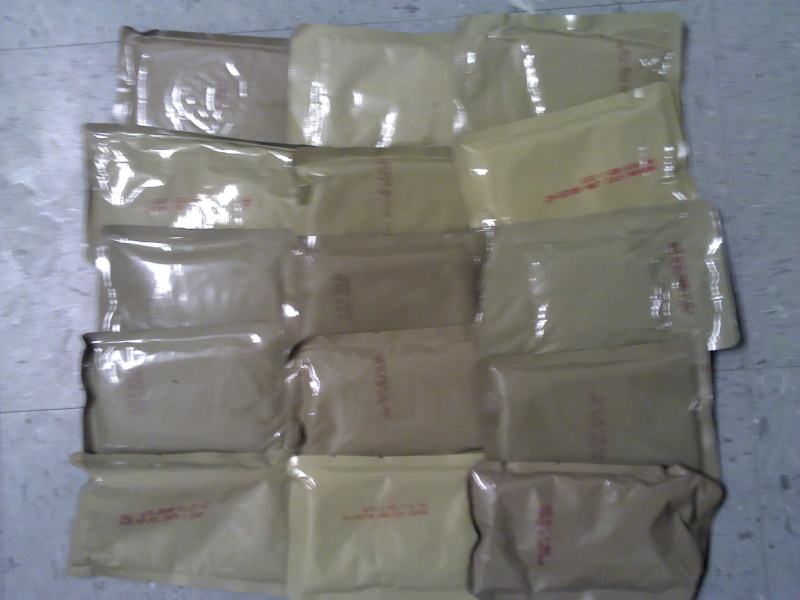 Last edited by Admin on 07.08.11 21:47; edited 1 time in total