Well, for reasons beyond my control, I am leaving airsoft. I have had a good run and a lot of fun. Thank you for helping me have so much fun. Now to the sale
I am willing to part out on some stuff, just PM me and we will work something out
Guns!!!
First my pride and joy
G&G gr16 raider (blow-back model, the blow back is taken out)
Shooting 350 FPS and 17-18 RPS on a 7.4 lipo
Nothing record breaking but she is durable.
Matrix magnum 3000 motor
G&P piston
Aim piston head stretched the O-ring
G&P cylinder
Stock cylinder head (Teflon taped) and gears.
Matrix TBB (polished) w/ systema bucking
16 gauge wiring with dean's plug
Magpul maid grip in multicam
Matrix railcovers, grip and 110mm mock suppresser
the stock has no butt plate, also it was broken, but i glued it back together and it works fine
Comes with broken eo-tech, clone MBUS, and JG highcap
Price-$150 OBO
-sold
110 mm mock suppresser- $10
CM16 w/ full stock-$120
350 fps 16-17 RPS
All stock, except for deans, removed fuse, and added front rail, polished barrel
Comes with G&G highcap and 7.4 5000 MaH 30c lipo
-sold
CYMA M14 SOCOM-$80
350 FPS 9-11 RPS
Guarder cylinder, cylinder head, and air nozzle
Classic Army piston and head w/ stretched O-ring
Stock gears and motor (the motor could use an upgrade)
Guarder Bushings.
16 Gauge wiring, stock connecter
comes with a highcap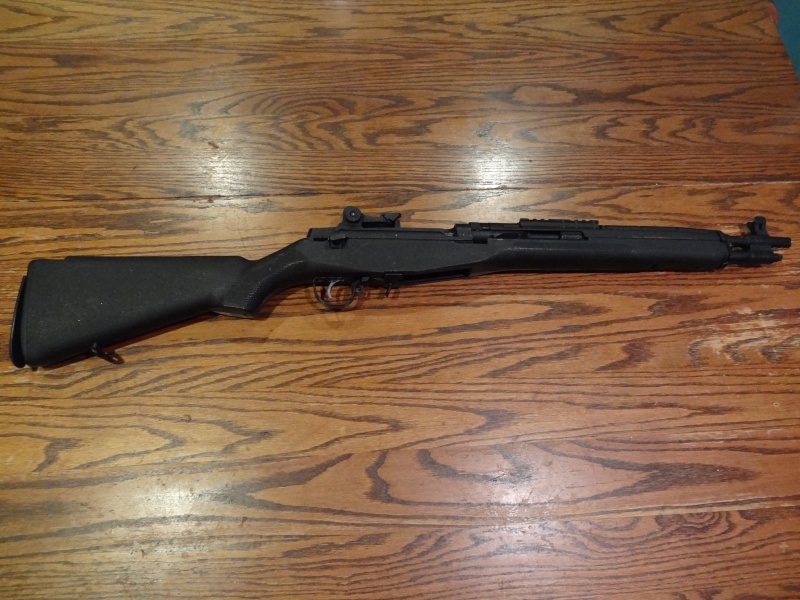 MAGS!!!
5 M4 JG highcaps- $5 ea. or $20 for all
-sold
5 M4 MAG midcaps they are broken in- $5 ea. or all for $20
-sold
2 AK 50 lowcaps (they need to be cleaned)- $5 for both
2 WE 1911 single stack mags, non leaking. $10 ea.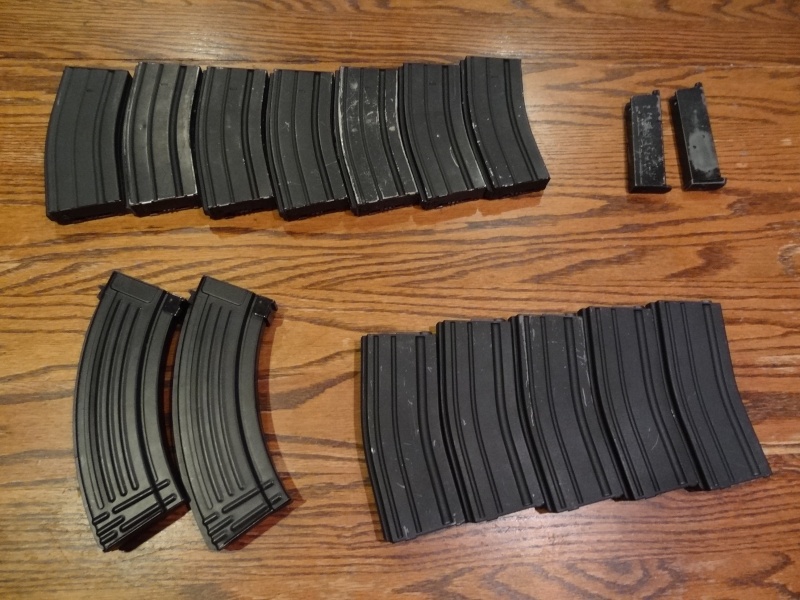 Gear!
All gear is condor and OD unless said otherwise.
plate carrier w/ Cummerbund.i have had it for about 1 year now it has held up very nicely, noy really any signs of hard use. $30
MRC4. almost new, used 3 games. $15
-sold
universal dropleg holser (right handed), new used once. $10
open top M4 mag pouche- $5
-sold
double open top M4 mag pouch- $7
-sold
double closed M4 mag pouch- $7
-sold
map pouch- $5
2 utility pouches- $5 each
dump pouch- $10
utility belt- $5
pistol mag pouch- $5
molle pistol holster- $5
a set of well used Small/Small ACU's- $15
a Pair of proper Medium/ long Muticam pants- $20
TMC V2 wire mask. nice very brethable- $10
Clone desert locust goggles, works well- $10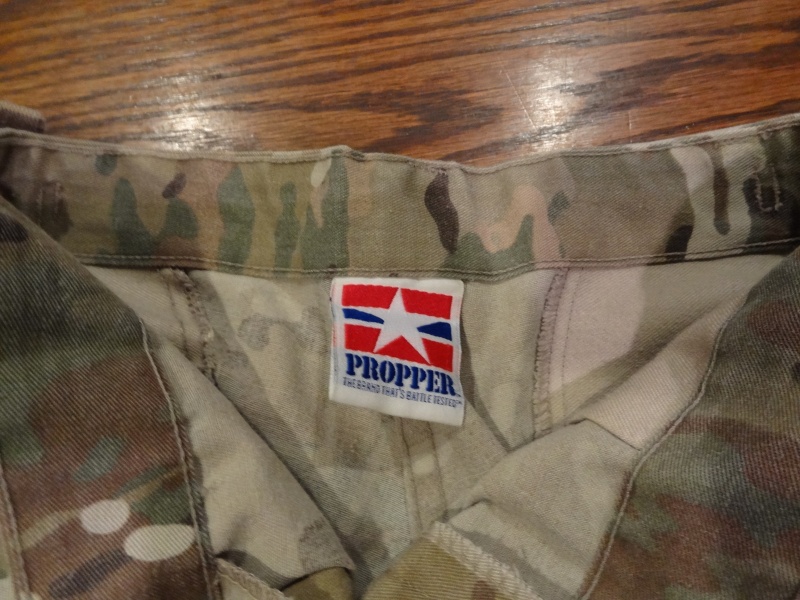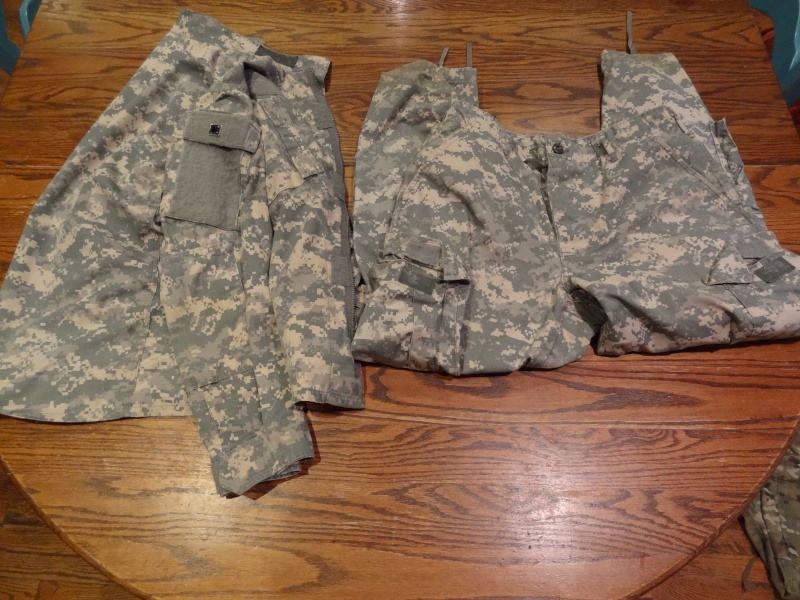 Externals
2 CYMA V7 gearbox shells- $15 for both
leapers 4x40? illumanated Scope- $10
2.5-7x30 hunting scope
G&G crane stock- $10
-sold
Echo 1 Crane stock in multicam (has a hole as shown in picture)- $10
-sold
Echo 1 buffer tube, can be put on rear wired- $5
G&G buffer tube, can be rear wired- $5
ACM MOE handgaurd Grip W/ mounting screws- $5
UTG scope riser- $5
M4 pistol Grip- $5
2 handguard caps- $2for both
4 sling mounts and buffer tube caps- $10 for all
Echo 1 handguards in multicam- $10
G&G body and barrel assembly (deltaring needs a spring)- $20
G&P metal Body- $30
SCAR rails- $3 for both
G&G carrying handle- $5
M4 retractable stock- $5
Magpul MOE stock- $35
M4 complete lower, echo 1 gearbock w/ G&G piston and head, unknown cilender head, AIM ballbearing spring guide and sector gear, JG motor, G&G pistol grip, ahd DPMS lower. it does not fire (I think trigger contacts). also wired to deans- $30
Internals
Wirers, connectors, fuses, trigger boxes and the like, lots of good stuff in here- $10 for all
-sold
G&P charging handle and bolt, also G&G blow back bolt- $5 for all
rail covers- $5 for all
AK pistol grip- $5
Madbull propain adaptor (the tank is NOT included)$10
M4 and MP5 tappet plates and triggers- $5 for all
Classic army (not sure if working), Guarder (need new pinion gear), and stock motors- $15 for all
Team associated Green slime (Best Lub EVER)- $5 for all
springs M95-M140. - $10 for all
stock barrels- $10 for all
AK front end, with hop up and barrel. (one of the prongs on the front sight is broken)- $15
2 G&G hop ups, with some buckings and nubs.- $10
M14 motor cages- $5
Bravo cylinder and Guarder piston head- $15
M14 trigger and selector switches- $5
Gears and antireversal latches- $10
mainly cylinders and tappet plates, but some V7 Cylinders and airnozzles- $10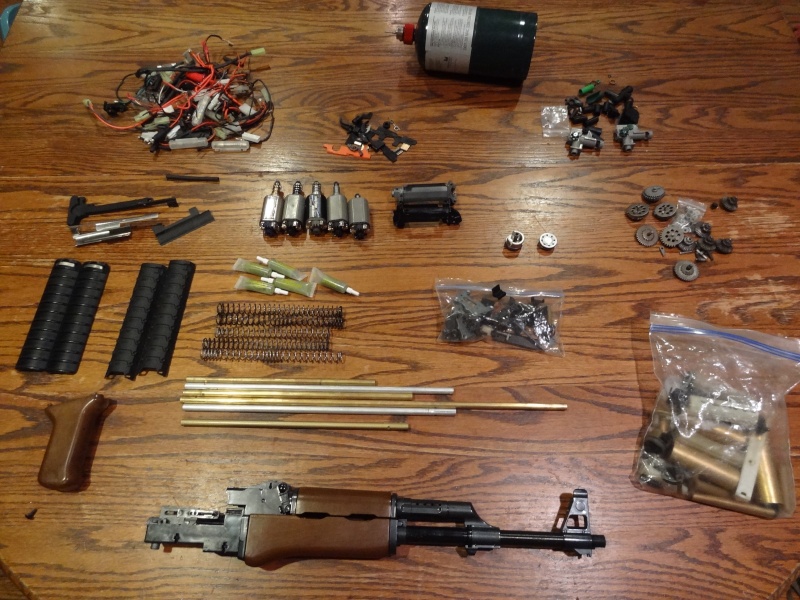 Other!
Imax B6 smart charger, charges lipos and NIMH. wired to deans. 20
-sold
More to come
Last edited by gapairsoft on 02.01.12 21:34; edited 17 times in total (Reason for editing : adding stuff)