Well last year I got into Air Soft very deep. That being said I am selling off some of my stuff. I am keeping my DD rifle. As this was a backup rifle for me it has only seen three games and performed well over the KWAs in the field.
Take everything listed for $300
First up is my king arms Sig 556 Shorty. You all know how good this rifle is and there is no need for me to try and sell you on it. From mid range to CQB it is the rifle you want on your persons. Its a solid mix of polymer and steel with a very realistic feel.
http://www.airsplat.com/Items/ER-KA-SG556-SRT.htm
Mounted on this rifle I have a good red dot. Its no Trijicon but its good non the less.
http://www.airsplat.com/Items/AC-SCP-RT4-WF1.htm
In order to protect this said device we have a flip up / down pastic lens.
On the front end I have a shorty Magpul verticle grip.
On the rear end is a single point Magpul sling adapter with the sling.
Powering this joker is two 1600 MAH 9.4 V NMH batteries.
One Med Cap Mag
So the rifle with all items mentioned above and barrel sock I will sell for $325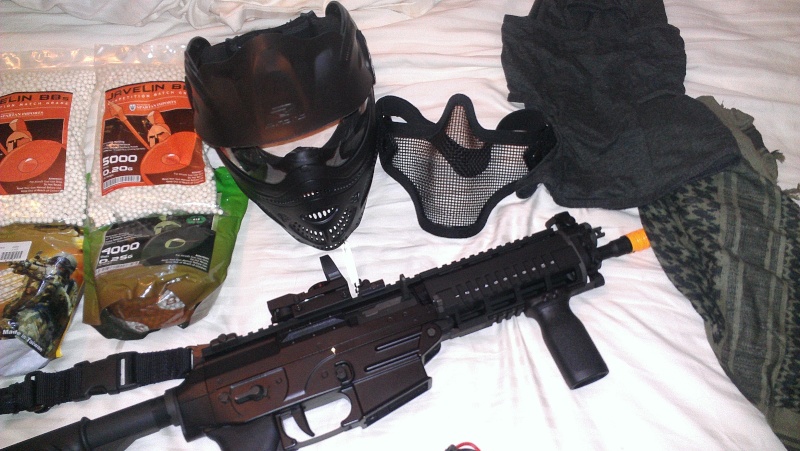 Next up is the mask we all love to use with our select goggles, no more fog up with these guys on. Includes baclava.
$15
I also have a full face mask that I will sell for
$20
Includes scarf

~15000 BBs 12000 of which are .20 and the rest are .25 some are bio and others not (see pictures)
Included in package with rifle and any other item listed.

Thigh rig - holds 6 mags - This was purchased on base at the BX and is the same brand issued. $30
I will part anything out just ask, Text is best way 770-912-3277
If you see anything in the pictures that you want and I don't have listed please let me know. Its for sale.
Last edited by tybalt6691 on 28.06.12 19:20; edited 1 time in total